Detective Mark Rusin works long hours, saying some work days run past 12 hours. On average, he's assigned to 35 to 40 cases each year.
Detective navigates a range of work, questioning colleagues and criminals
Mark Rusin's assignments punctuate the highest-pressure tasks with mundane moments

written by:
Max Jakubowski
photography by:
Bryan Cereijo
ALSO FIND:
> Rusin's list of most notable cases
> Timeline of Rusin's milestones
For Mark Rusin, success as a Syracuse Police Department detective boils down to one key element: rapport. It's all about generating conversation and establishing relationships — with criminals, with fellow cops, and especially with local citizens.
His job as a detective includes many high-pressure assignments investigating horrific crimes and dissecting officer-involved shootings that can cleave the force and the city, but also less intense but just as critical, outreach to everyday citizens whose support is essential to the force.
"You get to know people pretty closely," Rusin said about his varied and often high-pressure roles, whether it's reaching out to community members, interviewing fellow officers in the days and weeks after a shooting, or coaxing the details from a killer.
The 33-year-old Rusin works as a detective within the Criminal Investigations Division of the Syracuse Police Department, pulling the sometimes-lonely 4 p.m. to midnight shift.
Rusin works on close to 40 cases a year as part of the 40-person CID unit. But not every day includes an on-scene investigation. His desk neatly primed with papers and a folder of open cases, there are some days when Rusin is confined to his chair triaging cases.
"At least I have a view out the window," he remarked dryly as he logged files on his computer one day this spring.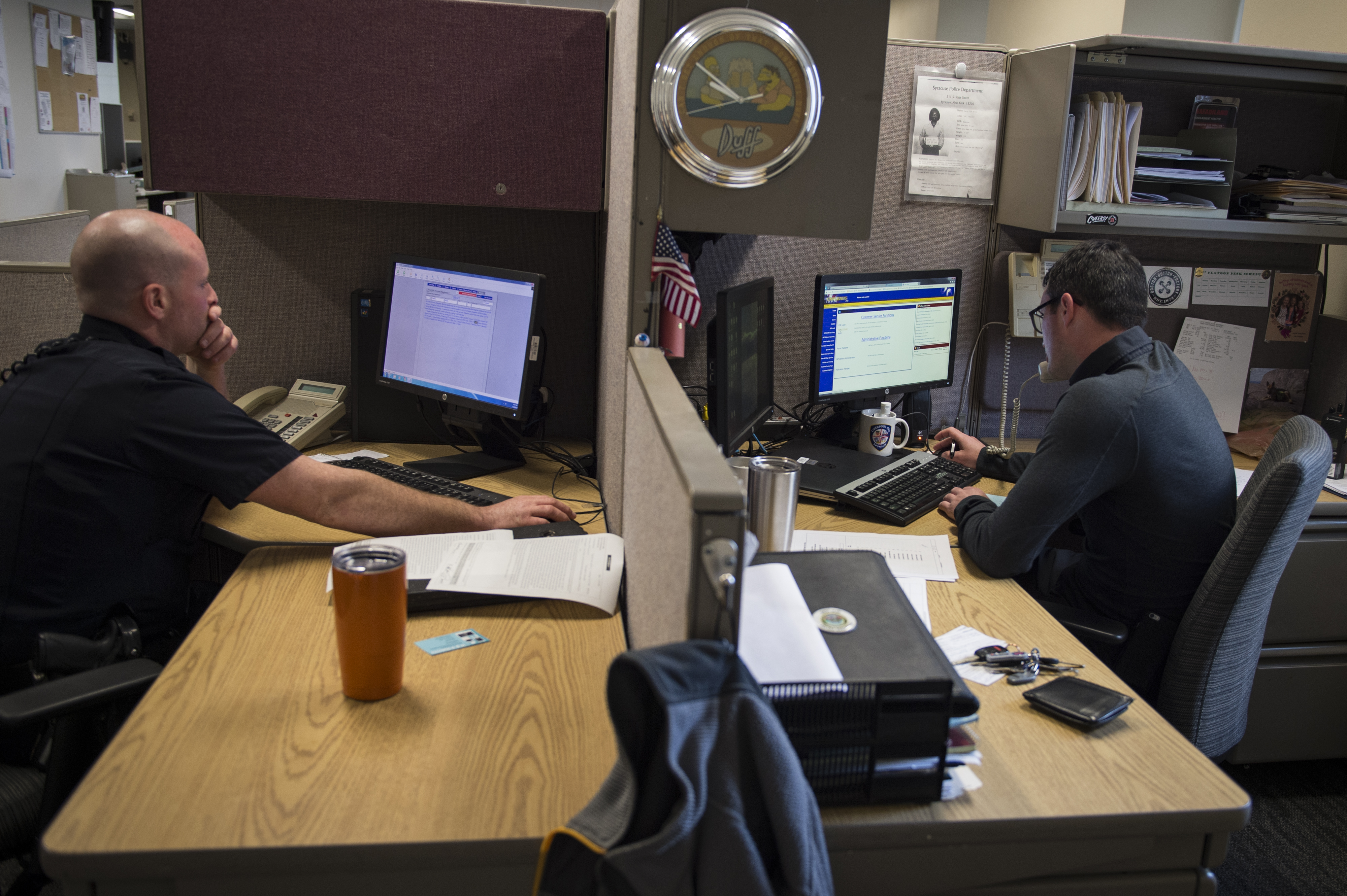 Rusin, available at his station until needed at a scene, spends the majority of his time in the office following up on leads and filing investigative paperwork.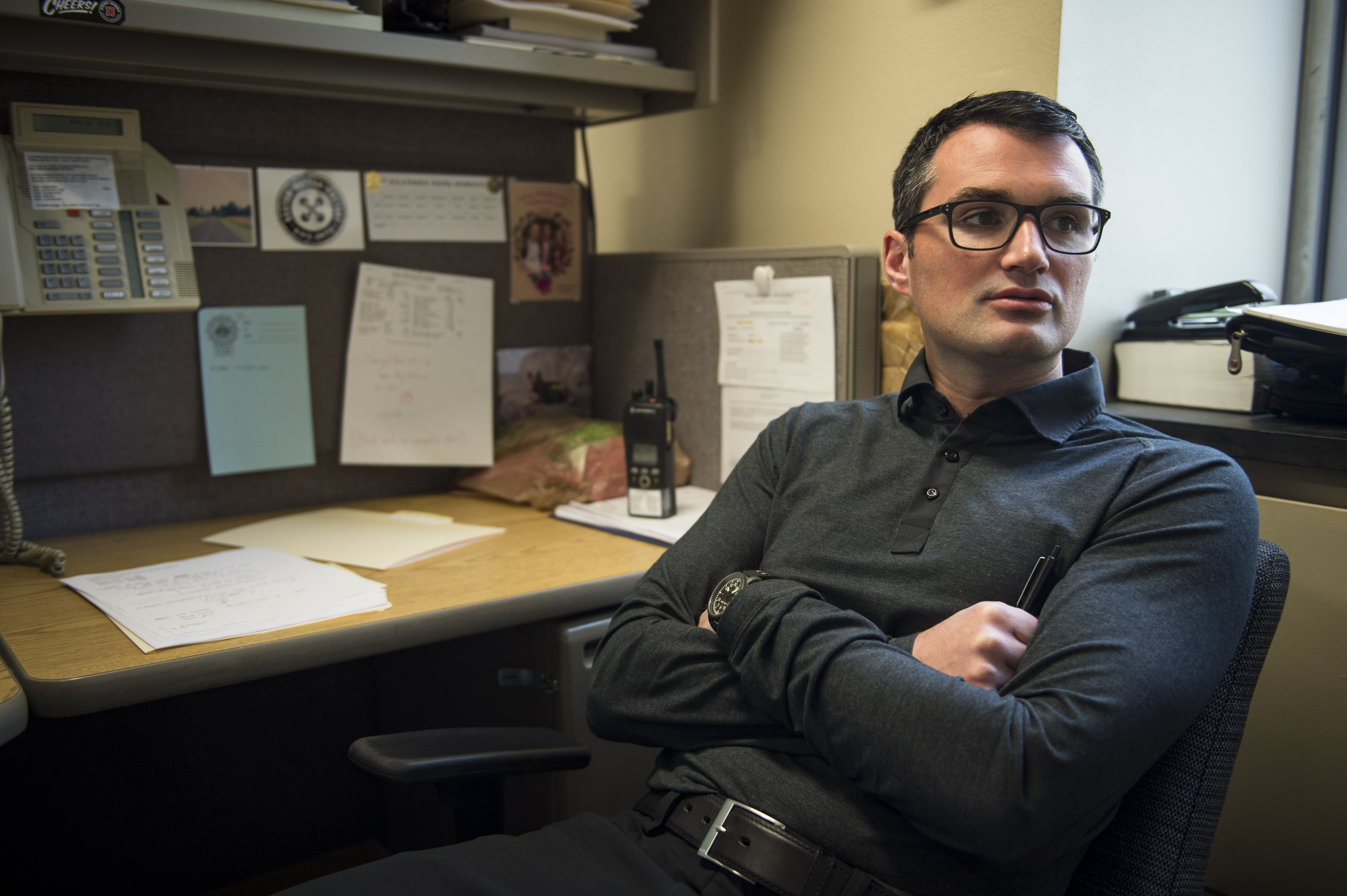 Detective Mark Rusin looks on after answering a call. He works within the Criminal Investigations Division (CID) at the Syracuse Police Department.
Rusin grew up in Windsor, New York, and attended The State University of New York College at Geneseo. His first real interest in a law enforcement career was when he met a K9 officer, a moment that turned his career goals toward becoming a cop.
After a brief stint working for the Livingston County Sherriff's Office, Rusin moved on to Syracuse in 2006. Since then, he's charted an eclectic path: Training in pepper spray and taser use-of-force tactics, and doing months-long training sessions in investigative methods such as polygraph examinations and statement analysis, a way to analyze a person's verbatim statement to tell if they're telling the truth.
Rusin honed his polygraph tactics during a three-month, six-days-a week training session in Pennsylvania that concluded in March 2017. He was a part of a class of detectives from across the country who attended the advanced polygraph session. These kinds of advanced training sessions greatly enhance his ability to solve cases, he said.
Rusin attended the training session with his colleague and friend, SPD Det. Matthew LaLonde, and LaLonde said Rusin was focused during those months.
"Mark handled it (training) just like he does everything else, with professionalism and all his effort to do well and perform," LaLonde said.
In 2009, Rusin moved to the CID, focusing on felony cases and investigating officer-involved shootings, when a cop fires in the line of duty.
Rusin and SPD Sgt. Derrick McGork attended a special training session in Chicago last year to learn about advanced shooting investigation methods. The two trained in memory-related topics, including perceptual distortion and human physiology under stress.
Recently, SPD officer Ahmad Mims was placed on administrative leave for a time after he fired his weapon during a traffic stop in late April after a driver attempted to hit him with a car. Rusin was interviewed during the period after the incident occurred and while Mims, like Rusin, was being interviewed for this project.
Little information was released about the incident at the time, under SPD guidelines for such officer-involved shootings. Rusin said the hardest thing to convey to people is that these cases can't be resolved in a matter of days or even weeks.
"People get so upset. They want an answer yesterday, but it's never going to happen that way," Rusin explained. "It takes time for a thorough investigation."
Whether it is a crime scene or an officer-involved shooting — there were four in 2016, three resulting in citizen deaths — the investigative team has to sketch and map out the scene, match DNA, search and itemize all shell cases, and run ballistic tests on the weapons.
In the event of an officer-involved shooting, the officers are placed on administrative leave right away, and officers are not asked for a statement for at least a minimum of 72 hours after the incident.
"After a critical incident, memory is better after multiple cycles of sleep," Rusin explained.
After the evidence has been gathered, the case has the potential to go before a grand jury if an officer may be at fault. Rusin said it's stressful for the officers involved.
"It's tough for them sitting out that long. You lose officers for two to three months. The officers then are out of work, especially with no overtime. But (the system) is needed for accountability issues."
In some cases, public opinion can turn hostile fast.
Rusin recounted how officers have received death threats for their involvement in shooting cases, including SPD officer Kelsey Francemone for her role in the Father's Day fatal shooting incident in June 2016 that left one man dead. Francemone returned fire after she said someone in a crowd shot at her when she responded to a call. A grand jury later found Francemone's actions were justified, and she was reinstated to active duty.
In the police report, the investigative team detailed the location of 37 bullet casings found at the chaotic scene, fired from six different handguns.
Emotions were very high, Rusin said, in explaining why officers' names are not released immediately in such cases for fear of causing confusion and outrage among the public.
"Miscommunication causes all kinds of problems," he said.
"Out of the dark"
Rusin and fellow SPD officers work on police-community relations through dialogue sessions. These include four to five SPD officers and four to five members of the community. The meetings include no supervisors and are confidential.
"They (citizens) see the officers every day but if they don't know who is working in their neighborhoods, it becomes problematic," Rusin said of the idea, which was hatched in 2014. "People want police to be around but don't want to be held in dark when it comes to answers."
"People want police to be around but don't want to be held in the dark when it comes to answers."
The topics are broad: race, education, violence, poverty, juveniles, mental health and substance abuse. Rusin said even the Intestate 81 construction plan has become a major point of discussion, with residents concerned that construction will lead to horrendous traffic times, stretching into the outskirts of the city.
Rusin credits this small, yet significant community outreach program with getting officers and citizens together in a non-confrontational environment where they can hear each other's concerns and talk some things out.
LaLonde lauds Rusin's ability to connect with people and turn it into something positive for the department, especially in a diverse community.
"He's able to talk to people, which is a very good quality to have in this line of work, to be able to talk to people from different backgrounds and cultures," LaLonde said.
Rusin also has assisted with the Civilian Police Academy.
The most recent three-day Academy was held in January 2017, where 40 citizens got to ask questions and learn something about the law and police tactics.
"The three days we were there leaves a lasting impression to the civilians and the police officers, too. It's a two way-street," Rusin said.
Through both these outreach programs, Rusin said he's come to understand the importance of a diverse police force.
"There are people from all over the world in Syracuse. They set up their lives, homes, families here. If your community is as diverse as Syracuse, you certainly need to have something that people can relate to," Rusin said in reference to SPD hiring and recruiting more minority officers.
Rusin credits Police Chief Frank Fowler for dedicating the resources and budget to building relationships.
After three months of polygraph training at a military base in Pensylvannia that began at the start of 2017, Rusin returned to the Syracuse Police Department in March.
High crimes, and simple approach: "One foot in front of the other"
Rusin's main duty can be a mentally grueling one: to investigate felony cases.
The killing of 21-month-old Maddox Lawrence in February 2016 — the Baby Maddox case — was a crime that received local and national headlines, with Rusin thrust into the thick of it, talking one-on-one with the killer.
Rusin and partner Detective Terra Kalil interviewed Maddox's father, Ryan Lawrence, deep into the early morning after Ryan was picked up, suspected of kidnapping his own daughter after he dropped his wife off at her job at the Destiny mall.
The detectives went into the interrogation room with Lawrence at SPD headquarters at 10:30 p.m. After spending the entire night with Lawrence and bringing him to various crime-scene areas, Rusin and Kalil wrapped around 2 p.m. the next day with a confession of the heinous crime. Lawrence admitted to killing his daughter, burning her body and then dumping her remains into Onondaga Creek. He was found guilty of first-degree murder and sentenced to 25 years to life in prison.
To elicit a confession, Rusin spent the first hours with Lawrence building rapport.
"People do bad things, for whatever reasons. People are attracted to people they can build a relationship with and feel comfortable with and can talk to," Rusin said of his investigation skills to help get Lawrence to talk about the crime.
Some 60 or so people were actively working the case during the night of the interrogation, Rusin recalled, with officers first scrambling to find the baby, and then assist Rusin and Kalil to learn the location of her remains.
Despite garnering the confession from Lawrence, Rusin is uncomfortable being known for that case because so many others worked on it.
He points to the FBI, state police, sheriff's office, district attorney's office, dive team and all the other local law enforcement departments crucial to the investigation.
The interrogation in a small holding room with Lawrence, thinking the baby's life might still be on the line, was intense. The outcome was shocking. But Rusin offered a simple approach despite the pressure cooker of Baby Maddox and other cases: He simply says he continues to move forward, putting "one foot in front of the other."
The day after interrogating Lawrence, Rusin was scheduled to leave for Dover, Delaware, for training. Rusin continued his trip and credited the break from work to help him rest and reset after grueling days.
Rusin said he appreciates that SPD has allowed him to do lots of training. He says he has bosses that listen to him and his colleagues.
"There's a bunch of guys you look up to and go to for advice, and that's most beneficial."
Rusin has also gained the admiration of his colleagues with his continuing efforts to improve through training and study.
"He has always been the type of person that when he wants to do something, he does it, and he does it well," LaLonde said.
Happy with his current status, Rusin says he's looking forward to teaching other police departments about the proper times to deploy force. He believes SPD and Syracuse residents can thrive together, even during the tougher moments.
"Syracuse is unique because it's just big enough but still small enough. I feel like you can do some real change, but it's not easy."
Det. Mark Rusin reflects on big cases he's handled
Detective Mark Rusin has investigated hundreds of cases over his 10 years with the SPD, including eight years as a detective. Here are four cases that stood out to Rusin in terms of severity and firepower regarding agencies/personnel involved in the investigation.
2016: Father's Day Shooting
SPD Officer Kelsey Francemone shot and killed Gary Porter after she saw him fire a handgun during a riot at a Father's Day party at the James Geddes apartment complex on the Near West Side. Francemone was later cleared of any wrongdoing by a grand jury.
Rusin take: "The community response was enormous, with all sorts of emotion after that incident. That case impacted both civilians and cops in a dramatic way."
2016: Baby Maddox
21-month-old Maddox Lawrence was killed by her father, Ryan, who abducted her after dropping his wife off at her job at Destiny mall. He burned her body and dumped her remains into Onondaga Creek, then tried to escape in a wig and disguise. He was caught in Baldwinsville. Lawrence — who blamed what he did on marital and money problems — was sentenced to 25 years to life in prison.
Rusin take: "In terms of the amount of agencies involved, this was one of the crazier cases I helped investigate. … We did everything we could. I just wish we could have found her sooner."
2010: Paris Hart
Paris Hart killed his 67-year-old grandmother, Nanette, after an argument. He suffocated her with a plastic bag, then hid the body in garbage bags. Hart was sentenced for second-degree murder and got 15 years to life in prison.
Rusin take: "A case that has stuck in my mind. ... I interviewed suspect Paris Hart. That was a big case."
2009: Qua'mere Sincere Rogers
3-year-old Qua'mere Sincere Rogers disappeared in 2009. The man last known to have custody of him told investigators that he gave the boy away to members of a cult-like group based in Georgia. The child is feared to be dead. Investigators are treating the case as a possible homicide.
Rusin take: "Hundreds of people have worked on it and (his disappearance) is still on my mind."